Owl Have You Know Podcast: A Live Event w/ Hesam Panahi
April 4th @ 5:30 pm

-

7:00 pm

CDT

Free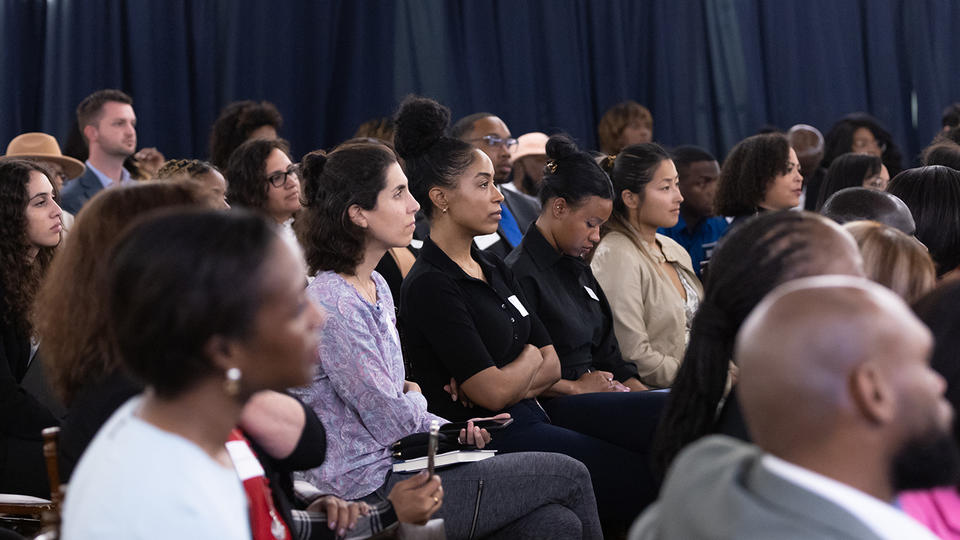 Hosted by Maya Pomroy '22, with Hesam Panahi and a special panel of entrepreneurs
Rice Business is hosting a special in-person recording event for the Owl Have You Know podcast at the Liu Idea Lab for Innovation & Entrepreneurship! Join us April 4 from 5:30 to 7:00 pm for a conversation between Maya Pomroy '22 (host), Hesam Panahi (the Director of Strategic Initiatives at Liu Idea Lab), and a panel of extraordinary founders (see below). Our guests will discuss their entrepreneurial journeys, the opportunities that exist in the entrepreneurship and venture capital space (even during an economic downturn), and how the Liu Idea Lab supports students.
Reception with refreshments to follow (7:00 pm to 8:00 pm). Register today!
REGISTER
Learn About the Guests and Host
Guest: Hesam Panahi, Director of Strategic Initiatives and Programs at Lilie
Hesam Panahi is a lecturer in entrepreneurship at Rice Business, where he teaches undergraduate and graduate courses in entrepreneurship and design thinking. He is also a faculty member at Rice University's Entrepreneurship Initiative and the Liu Idea Lab for Innovation and Entrepreneurship. Prior to Rice, Hesam was a clinical assistant professor at University of Houston's Bauer College of Business, where he taught courses in management information systems, computer science, industrial design, and entrepreneurship. While at the University of Houston, Hesam also founded RED Labs, the University of Houston's startup accelerator and technology entrepreneurship program. He holds a Ph.D. and Bachelors of Business Administration in Management Information Systems from the University of Houston.
Guest: Delaney Berman '22, Founder and CEO of Berman Foods
Delaney Berman earned a B.A. in philosophy from William & Mary. After graduating, she worked as a litigation paralegal, before pivoting to pursue her dream of creating a plant-based food startup. She joined the Rice Business Full-Time MBA program in 2020 and interned at the Mercury Fund as an entrepreneur in residence, incubating an artisanal plant-based cheese company. While at Rice, she won the Outstanding Woman in Leadership Owl Award, was a semifinalist in the John R. Lewis Racial Justice Case Competition and won first place in the sixth annual PepsiCo MBA Invitational Business Case Competition. She is now the founder and CEO of Berman Foods.
Guest: Rawand Rasheed, CEO of Helix Earth Technologies, Ph.D. Candidate at Rice University
Rawand Rasheed is a fourth-year Ph.D. student in mechanical engineering at Rice University. His venture, Helix Earth Technologies, won first place in the H. Albert Napier Rice Launch Challenge, a competition sponsored by the Liu Idea Lab. He was also awarded the 2022 Hershel M. Rich Invention Award for his research into multiplexed inertial filters. His startup, Helix Earth Technologies, helps power plant operators reduce water use and overall operating costs. Rawand earned his B.S. and M.S. in mechanical engineering from Portland State University. From 2019-2022, he worked as a life-support systems engineer in NASA's crew and thermal systems division at the Johnson Space Center.
Guest: Taylor Anne Adams '23, MBA Investment Associate for Mercury Fund
Taylor Anne Adams was born and raised in Houston. She earned a B.A. in communication from Wake Forest University. Before joining the Full-Time MBA program at Rice Business, she had a few career pivots, and was most recently a managing director at The Cannon, a community helping innovators thrive. Since joining Rice, she's been actively involved with the Entrepreneurship Association, president of our renowned Women in Leadership Conference and interned at the Artemis Fund, a female-focused venture capital fund in Houston. She graduates from Rice in May and is currently developing a sports tech venture capital fund.
Host: Maya Pomroy '22, Founder of The Public Lead
Maya Buryakovsky Pomroy is the Founder of The Public Lead, the latest of her entrepreneurial efforts. She formerly launched educational toy and book store, Brilliant Sky Toys and Books in Austin, Texas and grew the business to $1 million in revenue within the first three years of operations. In 2014, before moving to Houston, Maya brokered and executed the sale of the retail firm. Prior to her entrepreneurial role she served as an award winning news anchor, reporter and executive producer for television news in Austin, Waco and Bryan/College Station.
She earned a BBA from The McCombs School of Business, and a Bachelor of Journalism from The University of Texas, along with a Master's Degree in Public Policy from the LBJ School of Public Affairs. She is a Rice Business Class of 2022 Executive MBA, and remains heavily involved with education and policy initiatives.
REGISTER
—
About the Owl Have You Know Podcast
Owl Have You Know is Rice Business' podcast created to share the experiences of alumni, faculty, students and other members of our business community – real stories of belonging, failing, rebounding and, ultimately, succeeding. During meaningful conversations, we dive deep into how each guest as built success through troubles and triumphs before, during and after they set foot in McNair Hall.