Written by Edwina Kumi, Program Manager
From Monday, August 29th to Thursday, September 1st, Lilie hosted the first-ever FIESTA, a festival for innovation, entrepreneurship, science, technology, and the arts! We welcomed over 200 attendees during the 4-day celebration with students, faculty, and alums representing various schools across Rice. Guests and attendees heard from peers and mentors about struggles, successes, and world-shifting changes that are part of the entrepreneurial experience. 
Each day's theme highlighted different phases people encounter when engaging in entrepreneurship.
Day 1 – Get Inspired
With every idea comes inspiration, and the first day of FIESTA's goal was to get attendees' thinking gears in motion.
FIESTA kicked off with a fireside chat with keynote speaker, Professor Jacob Robinson. In addition to his position as Associate Professor of Electrical and Computer Engineering and Associate Professor of Bioengineering, he is also the Co-Founder and CEO of Motif Neurotech, a provider of minimally invasive electronic solutions for mental health. He will be taking a sabbatical next year to work on this venture full-time.
Attendees heard from and engaged with Professor Robinson as he delved into what inspirations and challenges he faces as a researcher, faculty member, and founder. Following the chat, students had the opportunity to meet with mentors, alums, and friends of Lilie, who were able to provide insight and guidance to budding and experienced Rice student entrepreneurs.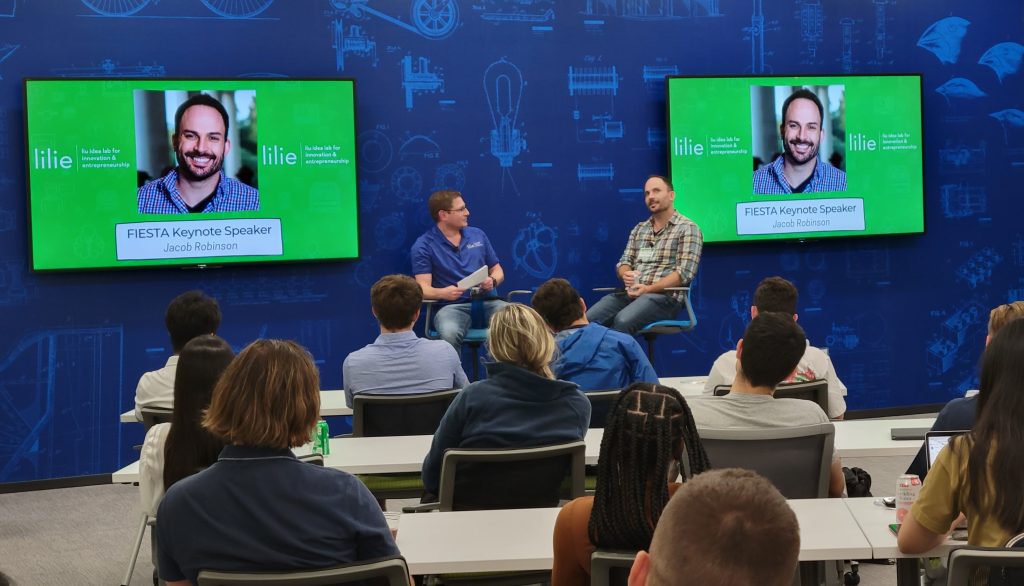 Day 2 – The Problem Space Buffet
Day two honed in underscoring the incredible exploration happening at Rice. Guest faculty speakers shared the problem spaces that inspired their research and the remarkable developments they have made to change the world. Representing the student body, four of Lilie's Innovation Fellows gave five-minute presentations (similar to what they did for the Napier Rice Launch Challenge) about their ventures that ranged from eliminating forever plastics to fighting cancer.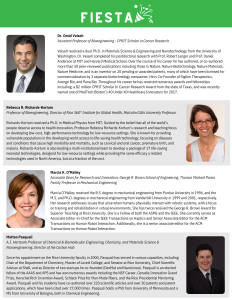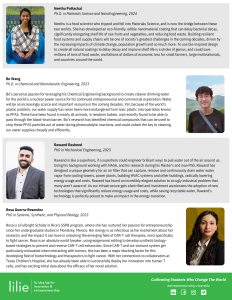 Day 3 – Entrepreneurship Resource Fair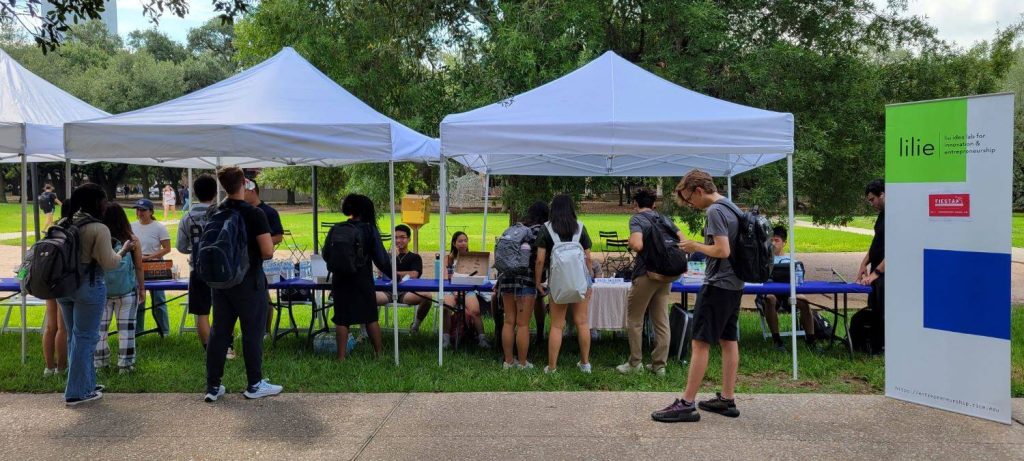 For the third day of FIESTA, several entrepreneurship-rich clubs were set up in front of the RMC to connect with like-minded students. If you didn't get the chance to visit the fair, here's a list of entrepreneurial clubs to check out!
DAY 4 – Stepping Out
The fourth and last day of FIESTA spotlighted seeing where the entrepreneurial drive can take students after they have passed through Sallyport. We had three notable alums speak with students about startups they developed during their time as Rice students.
Steve Jimenez founded Hives for Heroes; a quickly growing national non-profit organization focused on connecting veterans with honey bee conservation to provide a community of support and purpose after service. 
Andrew White is a bachelor's degree in Piano Performance recipient and founder of A440. This platform provides a community for performance artists and audiences to connect, a need he sought to solve during his time at Rice. 
Savannah Esteve, Masters of Bioengineering in Global Medical Innovation recipient and co-winner of 2022's Napier Rice Launch Challenge (1st Place and Audience Choice awards), co-founded Rhythio Medical. Rhythio Medical is a solution to arrhythmias, the leading cause of Sudden Cardiac Death (SCD), which affects about 5 million Americans annually.
The three alumni underscored how innovation on a student level can create positive, life-saving impact on communities and the world on a larger scale.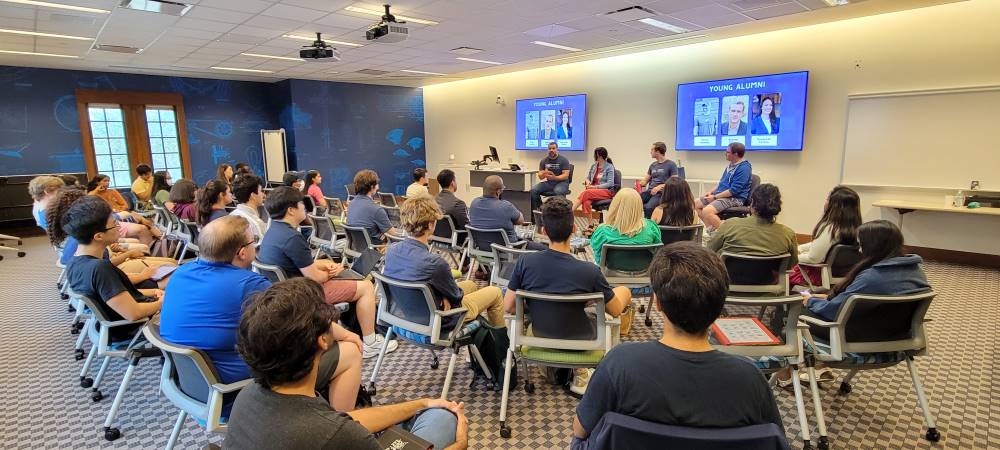 Lilie thanks all of our guests and attendees for making the first-ever FIESTA one for the record books. We look forward to seeing everyone at the next FIESTA and our upcoming events!