[VIRTUAL] Human Spaceflight w/ Kate Rubins
October 28, 2021 @ 12:30 pm

-

2:00 pm

CDT

Free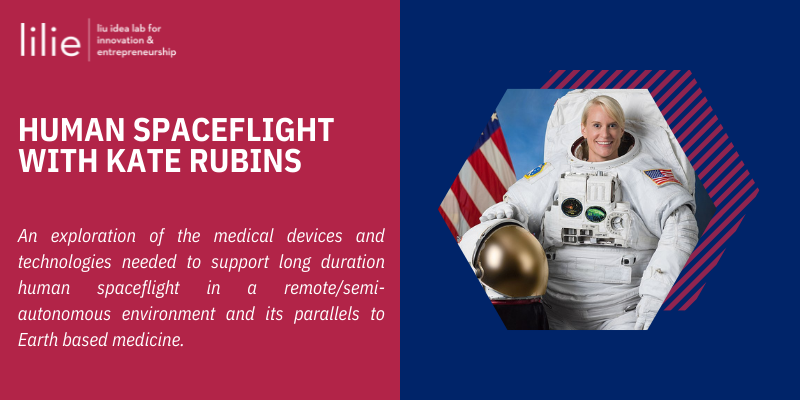 We are in an unprecedented era of human space exploration requiring significant innovation in remote medical capabilities to optimize crew health and safety. 
The expansion of human spaceflight missions, in both duration and in distance, will impose new hazards and new technical challenges, necessitating earth-independent capabilities and a shift from augmented to autonomous self-health and medical management. NASA has to empower health and medical management in remote and resource constrained environments; which in many ways parallels our healthcare needs on Earth. 
Join Kate Rubins, microbiologist and NASA astronaut, in an exploration of the medical devices and technologies needed to support long duration human spaceflight in a remote/semi-autonomous environment and its parallels to Earth based medicine. 
*This event is open to all Rice University students
About Kate: Kate Rubins was selected by NASA in 2009. Rubins completed her first spaceflight on Expedition 48/49, where she became the first person to sequence DNA in space. She holds a Bachelor of Science in Molecular Biology from the University of California and a Ph.D. in Cancer Biology from Stanford University Medical School Biochemistry Department and Microbiology and Immunology Department.  Dr. Rubins conducted her undergraduate research on HIV-1 integration in the Infectious Diseases Laboratory at the Salk Institute for Biological Studies.  She worked as a Fellow/Principal Investigator at the Whitehead Institute for Biomedical Research and headed 14 researchers studying viral diseases that primarily affect Central and West Africa. Rubins most recently served aboard the International Space Station as flight engineer for Expedition 63/64. Across her two flights, she has spent a total of 300 days in space, the fourth most days in space by a U.S. female astronaut, and conducted four spacewalks.